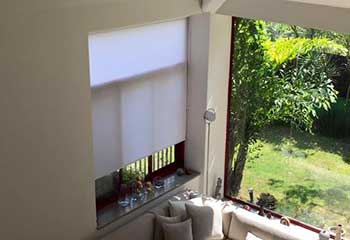 Motorized Vertical Blinds
Customer Issue: Mr. Campbell was having difficulties opening and closing the blinds on his high-set windows.
Our Solution: We discussed with Mr. Campbell different ways of controlling the window treatments, and realized he wanted to keep things as simple as possible. Since the existing blinds looked pretty shabby, Mr. Campbell asked us to install brand-new ones of the same color. We took the necessary measurements and mounted the blinds as soon as they were ready. We also gave Mr. Campbell step-by-step instructions so he would know how to program the remote and operate the blinds.
Adam Campbell
- Simi Valley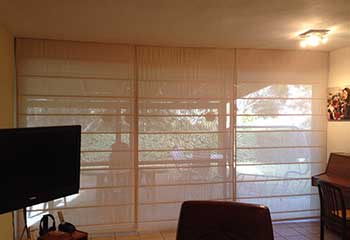 Roman Shades
Customer Issue: Mr. Fisher's living room was in need of new shades, but he wanted a style that would stand out and look unique, while still being beautiful.
Our Solution: Because Mr. Fisher wanted window coverings that would enhance the look of her living room in a unique fashion, she decided to go with Roman shades. Their lovely folds always tend to catch attention while still complementing the area, making them a perfect match for her needs. We used color samples to assist her in finding a gorgeous red shade for the cloth.
Byron Fisher
- Thousand Oaks
Outdoor Shades
Customer Issue: The customer wanted to spend more time outside on her patio, but it would become too warm to be enjoyable. She contacted us for consultation on the problem.
Our Solution: Outdoor blinds were the perfect way to solve this problem, as they would block out the sunlight to help cool down the patio, and keep it at a comfortable temperature. Once Ms. Hines decided on a warm brown color, they were created to size and installed by our technicians.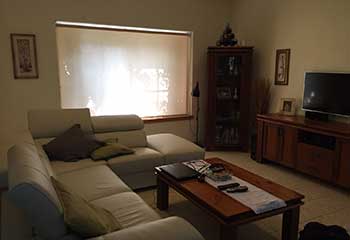 Motorized Shades
Customer Issue: Mrs. Payne was tired of dealing with adjusting the shades herself daily.
Our Solution: Our customer wanted to keep her furniture protected from sun damage more easily while not having to take so much time out of her day to move the shades. Our team felt that motorized shades would take care of the issue by allowing her to use timers instead!
Dianne Payne
- Agoura Hills
Cellular Shades
Customer Issue: Our customer was looking for better insulation with her new shades.
Our Solution: Along with increased insulation, the denser quality of cellular shades also provides noise reduction, which is why our professionals felt they would be perfect for a bedroom. They're also customizable in fabric choices to ensure they complemented the room beautifully.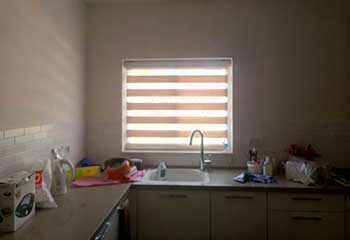 Faux Wood Blinds
Customer Issue: The customer liked the look of wood blinds, but not the price.
Our Solution: To help pair our customer's taste with affordability, our professionals suggested that faux wood blinds be used in her kitchen instead. They look the same with lovely staining, and are moisture resistant unlike regular wood blinds, making them an even better fit for the area.
Cassandra Gordon
- Thousand Oaks