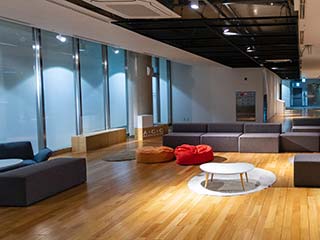 There's a lot more to Lutron motorized shades than just great looks. Wireless smart window coverings boost the energy efficiency of your property by letting you make a lot more use of natural sunlight. Each window is carefully measured to ensure a precise fit so that the new shades won't allow any excess sunlight to spill around the edges. Custom motorized window shades give you access to a lot of magnificent wireless control options, too.
Automatic Window Coverings
WiFi control lets Lutron motorized shades link with IoT home systems for smartphone control, but that's not the only option. Wall switches and dimmers, as well as remote controls, are available for all Lutron motorized shade systems. Combine this with the extensive range of different colors, materials, and elegant designs to choose from, and you've got a winning recipe. Blackout covers keep out sunlight, and sheer shades make for a comforting interior ambiance. We're the leading Simi Valley source for Lutron motorized shades, and we offer you free advice and consultations on our full range of products.
Best Reasons To Choose Lutron Shades
It's not enough just to say that Lutron shades, motorized, bring you a lot of conveniences. They can use automatic temperature and brightness sensors to detect when to open and close your shades. That means your property will stay comfortable and bright all day long without any effort on your part. Even without these sensors, all you need to do is press a button. That's ideal for windows with lots of rooms, like living rooms or meeting spaces in offices. With smart systems, this all gets even easier, because you can set your Lutron shades to operate on a schedule. Never worry about opening or closing the shades again, because with silent motorized shades that's not a problem you'll ever have!
Finest Smart Lutron Motorized Shades In Simi Valley
Windows in the home or workplace can all benefit from high-quality custom Lutron motorized shades. These fantastic pieces of technology allow you to make use of cutting-edge advances and bring tons of utility into your property. Lutron's high-quality shading solutions look as good as anything else on the market, and you'll get the most beautiful window coverings around. Speak with our experts today to find out what perfect Lutron motorized shades fit your Simi Valley home space or business environment. Get in touch with us online or by phone to arrange a free in-person estimate at your property.