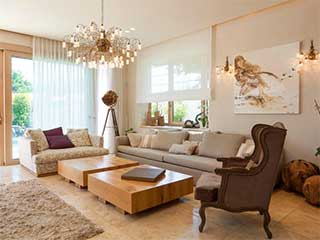 Getting blinds or shades is more than just getting something that looks nice to throw over your window. They all offer some purpose and functions and some are much different then others in some regards. It's important to consider certain things so that whatever you choose, it is the most efficient product for your needs. Below are some good things to keep in mind when selecting what you want to cover your windows.
Light Controlling Abilities
One of the most important things to consider is how much light you will be wanting to block or filter out of the designated area. Something like a blackout shade will block out all incoming light making them great for bedrooms or areas you want to keep light out of period. A bit more traditional, yet popular, option would be venetian blinds because of their great functionality and light control abilities. Each slat can be individually turned, adjusting the amount of light filtering into the room or the whole thing can be raised as well, giving you full sun exposure and making them super versatile!
Amount Of Privacy
Another important thing to keep in mind is how much privacy you do or don't need when considering window coverings. If you're trying to keep things private in a certain area, you wouldn't want to put solar shades there because you can essentially see right through them. It's important to have the right level of privacy while also keeping things functional and efficient in your home or office.
Level Of Maintenance Required
Sure some window coverings look really beautiful, but how easy are they to keep clean? If something that is easy to maintain is more what you're looking for, then you probably wouldn't want to pick drapery as your window option. Something like roller shades would be much better of a choice due to the fact that it is all one piece of material that is very dirt and dust resistant making them one of the easiest to keep clean.
Bottom Line To Remember
Picking window coverings all comes down to personal preference and individual needs of course. Remember, should you need help, Simi Valley Window Shade is always here to assist you!