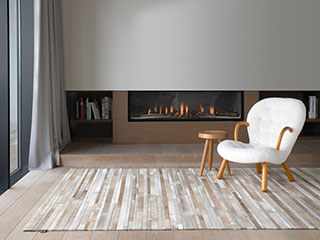 Window blinds and shades used to pose safety risks for children and pets, and require time and effort to get the full benefit. That changed when motorized blinds unfurled onto the market. Nowadays they can do a lot more than just open and close themselves on command! For the Simi Valley area, motorized window blinds with sensors, smart controls, and solar batteries are just a few of the inexpensive options. If you have a house or workplace with a lot of windows, motorized blinds can make your day much easier, and your bills smaller. Some of the advantages of motorized blinds include things most people would never even think of! You can choose motorized window covering solutions for apartments, office spaces, condos, and more. From shops to gyms to residences, every property can benefit from motorized window blinds or shades.
Wired And Wireless Battery-Powered Blinds
Not so long ago, most motorized blinds needed a wall outlet to plug into. That, or get wired into a circuit directly. The battery-powered blinds of today have their own onboard power supply, which means no need for wires or cables day today. Choosing battery powered window blinds or wired coverings offer your Simi Valley property various pros and cons. If you want to eliminate energy consumption for window blinds altogether, think about a solar-powered set. The outward-facing panels of motorized blinds sets are perfect places to mount solar strips, and the battery is conveniently just a few feet away! Solar-powered blinds save money, lower your energy demands, and provide complete sunlight protection. PVC panels are opaque, so solar-powered blinds are also motorized blackout blinds! Solar window coverings provide enough energy for both the motor and the sensor systems you might choose to add.
Motorized Solar Window Treatments For Simi Valley
In the sunny state of California, there's a growing boom for utilizing green energy for almost everything. And it's no different with motorized blinds. You can choose to have these remote control window coverings harness solar energy in order to move. This opens up a lot of interesting possibilities. From saving money on energy and reducing carbon footprint to actually better controlling indoor temperature. Solar-powered motorized blinds offer Simi Valley residences, businesses, and other types of properties fantastic solutions for shade. With the abundance of sunlight for most of the year, solar-powered motorized window blinds make for a potentially money-saving, eco-friendly covering option.
Smart Motorized Window Blinds And Sensors
On the topic of saving costs, some advanced control systems allow your motorized blinds to take care of your property for you. Americans lose many thousands of dollars every year to sun-bleached carpeting, wallpaper, and furniture. On top of that, much of the heat loss a building suffers is through its windowpanes, and sunlight coming in the windows causes unwanted heating. With motorized blinds that move on a timer at certain times of day, you circumvent much of this. Give your motorized blinds some sunlight or heat sensors, or better yet a local weather report uplink, and you circumvent it all! You can supplement any other controls for your motorized blinds with online apps that let you adjust them from anywhere in the world. Your Simi Valley home or business will always be properly shaded, whether you're there to do it in person or not.
Custom Motorized Window Blinds Near You
There's plenty of room for variation when it comes to window blinds, motorized or with manual methods. We specialize in custom-designed products made to order and offer free consultation and quotes before you make any commitments. The classic wood (or faux-wood) panel blinds are always an option, as are fabric lined blackout blinds, sheer Roman shades, Venetian window treatments, and more. Motorized blinds come in all shapes and sizes, as well as materials. And we can mount them on vertical, horizontal, or swinging window frames. Want the best prices on motorized window blinds near the Simi Valley area? Give us a call and consult with our local specialist to receive a free estimate on blinds, shades, or shutters!