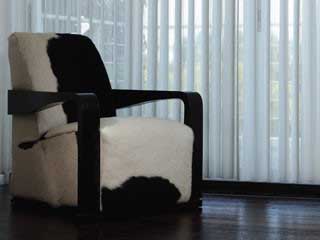 It's important to provide protection for all the windows in any property. Window treatments that don't give you enough privacy and comfort are not much use. That's why our lineup of high-quality vertical blinds is such a great way to improve any room. Choose wooden vertical blinds, or opt for vinyl or aluminum instead. Decide on any color you like, and even adjust the type of controls fitted to your new treatments. All of this comes at a market-beating price from the specialists at Simi Valley Window Shade. We offer high-quality window treatments and vertical blind installation across the local area. With our professional crafting and set up process, your new vertical window coverings will last a very long time.
Great Deals For Commercial Vertical Blinds
Our prices are always the best around. With cheap deals on custom vertical blinds, you can be sure that you're never paying too much. This is perfect for office spaces across Simi Valley, and it also allows business owners to improve their workplaces. Rather than exposing staff and customers to bright sunlight, you can use our office window vertical blinds to cut out piercing rays. This is perfect for meeting rooms, where you won't have to suffer through long discussions while squinting in bright sunlight. It's also a smart investment for businesses that need to offer privacy, such as a dentist or other clinics. Choose the best vertical blinds in Simi Valley, by giving us a call for a free consultation.
Vertical Blinds For Simi Valley Homes
It's easy to find the right vertical blinds to add to any room in your house. Get all the benefits of our impressive range by choosing vertical blinds to install on windows anywhere in your property. There's no restriction on what we can do for you. We can build sliding door vertical blinds, letting you get in and out without difficulty while still being protected. Our team can make vertical blinds for French doors in the same way, ensuring you don't compromise practicality or beauty. Call today to see how low our prices are.
Impressive Blinds For Any Property
Make your home or business more unique and attractive with your choice of high-quality vertical blinds. Nothing says "attention to detail" like a set of matched vertical blinds with curtains. Even better, why not choose to invest in some modern convenience? Our catalog of motorized vertical blinds allows you to add a touch of cutting-edge technology to any room. Let sunlight come streaming in with just a tap on your smartphone, and protect your property by automatically adjusting your blinds throughout the day. We're the best Simi Valley window treatment experts when it comes to vertical blinds, so speak to our representatives today.
Book a Free Quote
Vertical blinds can work for sliding glass doors and huge windows, letting you control sunlight with ease. Want to learn more about the materials and styles you can choose? We're here to provide all the info you need. Our selection of products includes motorized vertical blinds that give you wireless control options including smartphone connections. Book a free in-person consultation today to learn more about our 2020 collection of vertical blinds.