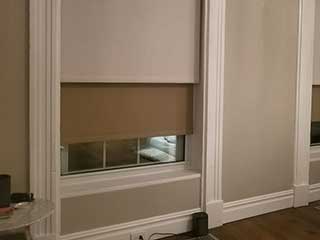 Simi Valley home and business owners are choosing blackout blinds more often all the time. These blinds mix the protectiveness of shutters with the open airiness of fabric blinds. With our blackout blind products, you can get perfect protection and comfort in your own custom made and personalized order.
Completely Light Proof Window Treatments
Blackout blinds get their name from their complete light impermeability. Blackout blinds have a layer of flexible foam that reflects any and all light that hits it under their fabric layers. The reflected light then goes back through the fabric layer, screening out more of it. There's not much left by the time it bounces off the blinds. No light gets through, and so little bounces off that there's no annoying glare from outside. Depending on the structure of your blinds, you can adjust the light levels by rotating, drawing, or sliding the sheets of fabric panels. Comfortable, protective, and convenient.
Bedroom Blackout Window Blinds
Bedrooms need good light control, and they also need to be comfortable and airy. Bedrooms also tend to have more delicate fabric surfaces than other rooms, with bedding, clothes, and wallpaper that the sun can bleach. Blackout blinds are the perfect solution. In fact, Simi Valley bedroom windows are some of the most popular places for blackout blinds. Simi Valley Window Shade's products come in all different colors, and with a variety of interior finishes. You can have a custom made set that fit any bedroom decoration scheme and any size of window.
Blackout Blinds For Simi Valley Offices
Sunlight is a threat to computer monitors and office furniture too. A nice shady waiting room makes customers happier about coming back, and you do your eyes a favor by not looking into glare on your computer screen. If you have a larger or busier workplace, you can also think about motorized blackout blinds. These will let you adjust the light levels throughout the day without interrupting your work or creating a disturbance.
Motorized Blackout Blinds
Putting your blackout blinds on an electric opener system adds a lot to them! Motorized blinds are more convenient, more reliable, and much safer for children and pets. Our blinds can protect your property much better when they can work on their own! For improved reliability, you should consider timer and sensor features. By setting your blinds to open and close at specific hours, you can make sure there will never be unwanted sunlight inside the room. Give them some of our solar smart sensors, and they can adapt to changing daylight hours and weather conditions all on their own. Smart blinds can save you money in the long run in furniture damage, heating and cooling costs, and general home or workplace maintenance.
Vertical Blinds And Roman Shades
Motors are just the start of our customization options. Do you have a long, thin living room or office window that rising blinds just won't cover? Our blackout blinds came in vertical slat arrangements, so you can slide them left and right along a roller set. Let our team measure your window, and you can have them made to fit! If you want something really impressive and beautiful to look at for a bedroom or centerpiece living room window, how about Roman shades? These pleated window coverings are perfect for taller windows that you want to draw the eye as well as soothe it. Like all blackout fabric blinds, our Roman shades are perfectly light-proof and available in any color you name.
Free Estimates On Room Darkening Blinds
Our custom blackout blinds are tailor-made for the windows and sliding glass doors of your Simi Valley Window Shade business or home. And, thanks to our free consultation and estimate services with each order, they're cheap and accessible for Simi Valley locals like you! Get in touch with us to book a free consultation on blackout blinds anywhere near the Simi Valley area!