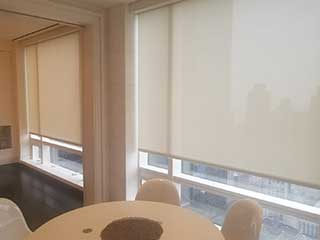 Blinds offer a lot of of advantages over conventional window coverings like curtains. In this post, we want to point out some of the most important benefits of installing shades on all the windows in your home or workspace. Go through our thoughts below and see if you agree!
Control The Light In Your Rooms
Curtains usually consist of two large pieces of fabric draped across your window space. This is so simple that it doesn't give you a great deal of control over the amount of light that is allowed through your window. Even the most basic designs of roller blind will give you superior light control. You can set the cover halfway up the window, or at any level, depending on the light that's approaching the window at that moment. You can also have transparent sheets that allow some degree of light to pass through when the cover is down, or have solid sheets that block light completely.
Styling Is Open And Varied
The range of designs of modern blinds is seemingly endless. Many designs feature panels that can be made in a huge range of fabrics to suit all preferences and practical needs. Plastics and some metals are great for bathroom and kitchens. Woods are perfect for interior spaces that already feature wooden decor. The possibilities are unlimited and there's certainly something for everyone! Most styles feature multiple thin slats that rotate or climb to let varying levels of light through. They look fantastic, don't take up too much space, operate easily, and come in a large range of shapes and styles to suit all tastes.
Easy to Maintain
Large conventional curtains can be a mission to clean, maintain and repair. Modern shades are designed to be easy to clean and last for years into the future without any issues. Why disassemble and wash a huge curtain when you can simply wipe away the dirt from a smooth and solid slate or panel.
We hope this quick summary of the advantages of blinds has helped! Good luck in your search for the perfect set!