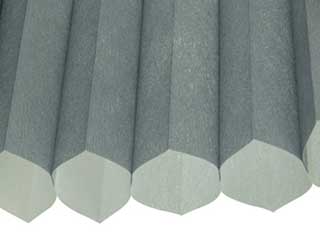 Why are cellular shades so great? Oh boy, where do we start? These honeycomb-structured window coverings are made specifically to do more than just filter or block sunlight. Their unique structure helps them reduce the rate of heat transfer, as well as keep your indoor environment as cool or warm as you want it.
So How Do Cellular Shades Work?
These window coverings owe it all to their structure. Cellular shades consist of an arrangement of pockets, a.k.a cells, that create a barrier of air (a buffer, if you will) between the exterior and interior of the room in question. They prevent hot air from moving through the window and out into the outside world, or vice versa. While usually not 100% effective, cellular shades still help a great deal when it comes to maintaining your desired indoor temperature, and – most importantly – saving money on energy.
Different Shades For Different Windows
Single cell shades will be suitable for smaller windows, while double cell shades will work better for larger glass openings. You can opt for small, medium, or large when it comes to cell sizes, but of course, the dimensions of your window will determine which size will be preferable. Speaking of window size, custom made cellular shades are definitely worth getting when it comes to optimizing their benefits. Making sure your shades fit the windows perfectly is always good, but with these cellular coverings, it's especially beneficial. It will determine more than just how much light gets through, but also how much heat you lose or how much extra time your HVAC unit will have to spend cooling your home.
Plenty of Customization
While not the most customizable type of window coverings, cellular shades are still quite versatile. You can opt for a variety of colors and design styles, as well as different types of opaque or sheer fabric. Your preference in terms of privacy and light filtering options will determine which combination best suits your needs.
Get Your Cellular Shades Custom Made
It's fine to have some questions about this sort of subject. After all, window treatments come in all sorts of sizes and styles, and it's not always immediately obvious which type is the best one for your needs and budget. Well, that's why it's worth it for you to schedule a free (that's right, free!) consultation with Simi Valley Window Shade and have an expert come over to help you decide. You can design your new window shades and leave everything from the crafting to the installation to our qualified team.