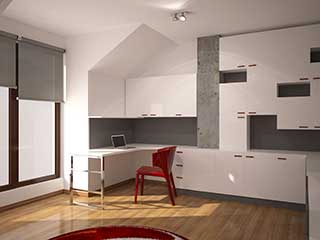 For a window treatment that has a more minimalist approach but is still very effective at light blocking and privacy, roller shades are among one of the best choices. They are affordable, easy to take care of and come in many styles that can match almost anything you need them to.
Keep Clean With Ease
Keeping a tidy home is very important to most of us and when products can help make it easier to accomplish, they are usually worth having. Roller shades are about as easy to keep looking great as it comes. Due to their simple design, they tend to collect much less dirt and dust then other types of window coverings and cleaning them is quick and simple. You'll love how effortless it is to keep your windows looking spic and span!
Discreet Look And A Great View
If you have a window that gets a lot of sun through it but also has a view that you want to be able to enjoy from time to time, this option is the way to go. These shades roll up very discreetly above the window allowing full visibility to the outside world so you can enjoy that beautiful view. The minimalist nature of these can be a great addition to any home or office where keeping things simple and practical is key.
A Style That Suites You
No matter the look you're trying to match in your home or business with window coverings, roller shades come in a large selection of styles, fabrics, and colors to choose from. There's sure to be an option for any room that will fit your needs and make the area look complete. They can also be custom fit to almost any size window so wherever you need them it can happen!
Make Your Appointment Today
At Simi Valley Window Shade you can count on us for your window covering needs. Our team is always ready to assist and get your windows looking great. Contact us by phone or online today and take advantage of our free consultations and color samples!