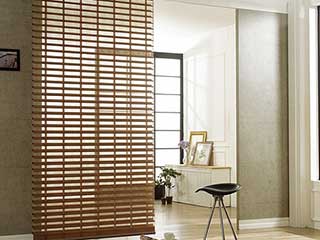 Combining many of the benefits of blinds with fabric window coverings makes sheer shades an excellent choice for many types of rooms. Offering great control over natural light levels, along with glare reduction and the ability to create amazing ambiance, sheer shades are one of the most popular window treatments available today - and with good reason. Make that, good reasons, plural.
The Best Of Both Worlds
Sheer shades work by using blind-like slats and fabric covers in combination with one another. When these window coverings are fully closed they provide the complete privacy of regular blinds and shades. However, when it comes to opening them, you have several different options. You can open them all the way and completely expose the room to outside sunlight, or you can only open their vanes, much as you do blinds, but still enjoy the soft light diffusion of shades, due to the fabric cover backdrop. This offers all of the benefits of both types of window treatments, giving homeowners an excellent choice when choosing how to control natural light in their home or office.
Why Choose Sheer Shades?
If you have a room that needs a lot of light, such as your dining room or living room, it's hard to find a solution that avoids many of the issues you can face. For instance, blinds may allow you plenty of privacy and control, but they won't diffuse light. Rays that slip between the slats of the blinds will be completely undimmed, meaning they can cause plenty of glare, not to mention, UV damage. Anyone sitting in the wrong place, or at the wrong angle, will have the unpleasant choice of squinting or closing the blinds entirely. And even then, some light can still manage through tiny gaps between the vanes. Sheer shades avoid this by fitting gauzy material between the slats or an extra fabric layer behind them, so you can keep the shades open without letting in unwanted and uncomfortable glare.
A Great Range Of Designs
You won't find yourself limited by choosing this type of window covering. Custom made sheer shades can be fitted to any window of any size, and are created specifically to meet your needs. Whatever materials or colors best suit you, you'll be able to find them, whether it's light crème fabrics or something darker and more opaque – let your imagination run wild.
Find The Best Sheer Shades Near Your Location
These window coverings provide a true "best of both worlds" solution that can find a place in any home. To find out more about sheer shades or any other type of window treatment, and to arrange for a free in-person consultation at your home, simply get in touch with Simi Valley Window Shade today.